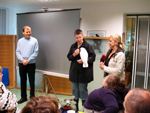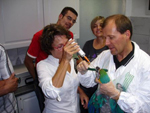 You enjoy the hobby of training and taking care for your parrots?
Would you like to learn more about these animals and their life in nature?
Do you like to share experiences with like-minded people about your hobby in a relaxed atmosphere?
Would you like to gather experience in handling the animals and first aid of parrots?
Come and visit one of our workshops with different topics which are regularly held at the Papageienpark Bochum!
Mrs Hildegard Niemann, diplomate biologist and certified parrot trainer

Mrs Heike Mundt, owner of the Papageienpark Bochum, and

Dr. rer. nat. Rainer Niemann, Editor of the Parrot and Parakeet Journal
organize these workshops at Bochum. Interested persons can find information and sign up at www.papageienpark-bochum.de (Mrs. Mundt) or www.papageien-training.de (Mrs. Niemann).
We also offer workshops in Hungary, Switzerland and the Philippines. If you're interested you're welcome to contact us!
Mrs Hildegard Niemann, diplomate biologist and certified parrot trainer

Mrs Heike Mundt, owner of the Papageienpark Bochum, and

Dr. rer. nat. Rainer Niemann, Editor of the Parrot and Parakeet Journal